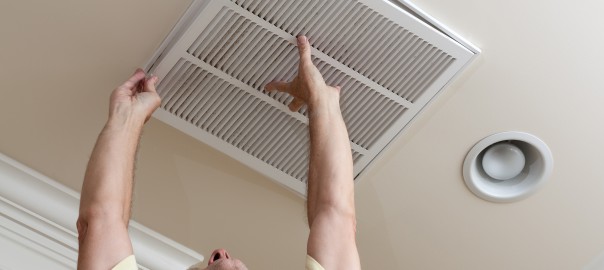 Having a home requires a lot of maintenance, and one of the areas that require upkeep is your HVAC system. When not properly maintained, your system can become inefficient and have poor performance. One task that you can take on to help your HVAC system is to change the air filter.
Your HVAC System
Every HVAC system has an air filter that filters out larger airborne particles that can clog the machinery in your system. A dirty air filter can lead to poor airflow or even a lack of air infiltration altogether. A clogged filter can also cause your system to work harder at heating or cooling, leading to increased energy bills and possibly future repairs. Your air filter needs to be replaced or cleaned periodically, as often as once every three months. If you run your system regularly, have pets, or live in a dusty climate, you may need to change the filter more frequently.
Locate the Filter
Your air filter is located just behind the return air intake vent, which is usually a huge vent. If you have a larger home, you may have multiple return air intakes. There are usually a couple of clips at the top of the vent that you release to open, and you should see a large filter just behind the vent.
Measure the Filter
Not all filters are the same, so when you are shopping for a replacement, it's important to find the right fit. Take the old filter out and measure it. Do this for all of the filters in your house, as they may not all be the same size.
Once you know what size to buy, go to any hardware store to find a replacement. There are one-month and three-month options, as well as washable filters. Your HVAC manual will have a filter recommendation.
Seasonal Maintenance
Don't live with an inefficient HVAC system—check your filters regularly and replace as needed for optimal performance. If you need help, you can always contact us at Total Comfort Heating and Cooling and our knowledgeable staff can assist you with your system.